Growing Rare Vegetables in Tottori
Last week I was informed of an international cooking event for which a recipe requires a vegetable that just isn't customarily found in these parts. It reminded me that much of what we grow in our garden it home is growing there precisely because it's the sort of thing that isn't offered in stores. Of course, we do grow things like tomatoes and figs, which everyone around us does also, but that's because we use such quantities of those ingredients that we require a special freezer to store up a year's supply to get us through everywhen that's not harvest time. But the following, apparently, qualify as special in Tottori.
Artichokes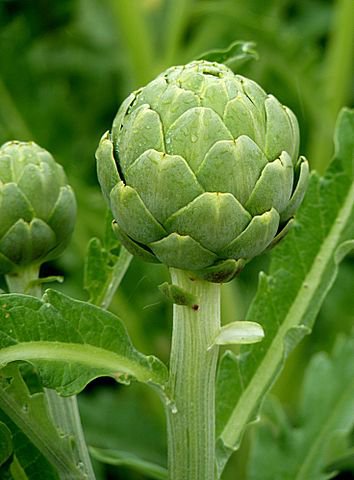 By Jamain - Own work, CC BY-SA 3.0, https://commons.wikimedia.org/w/index.php?curid=20737898
We planted these last spring and wondered why they didn't produce any fruit. We found out later it takes two years. From summer through autumn they grew to a monstrous size, and with as yet no snow in Tottori they're still standing strong. We'll do our best to keep them alive until we can eat from them, though the increasing harshness of summers in Tottori does not bode well for that.

Arugula (Salad Rocket)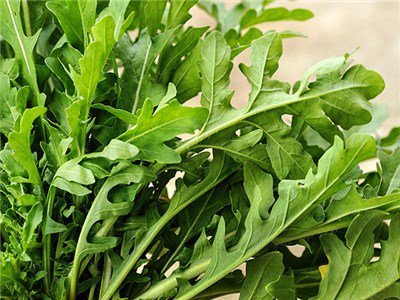 My wife first sampled this leafy green on her first visit to California, and fell in love with it. When we got back to Japan she insisted on tracking down a source of seeds for it, and we've been growing it here every year since.
In Tottori, at least in my garden, it only seems to grow for a few weeks in early summer. Once the summer heat sets in the leaves tend to grow too big and tough and bitter. We've only been able to get a good salad-worthy harvest for less than a month.

Kale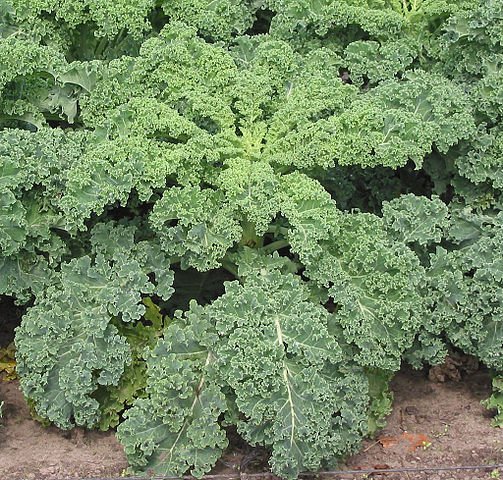 By Rasbak - Own work, CC BY-SA 3.0, https://commons.wikimedia.org/w/index.php?curid=119948
This is the one I was asked about. We grow ours from seed and let it grow for two years. The most copious harvest is in autumn, but it still produces edible leaves--even in the winter, and even when buried under snow--constantly for the nearly two years it takes the plants to grow too tall and bitter. Usually, by the time they come up to your waist they're not so delicious anymore.
They come in green and red varieties. To me, both taste similar, but the nutrient content is slightly different. Before eating, the leaves should be chopped and kneaded with salt, then left to sit, rinsed, and wrung out. This removes the bitter element. Afterward they can be steamed or even eaten raw, such as in smoothies.

Zucchini (Courgette)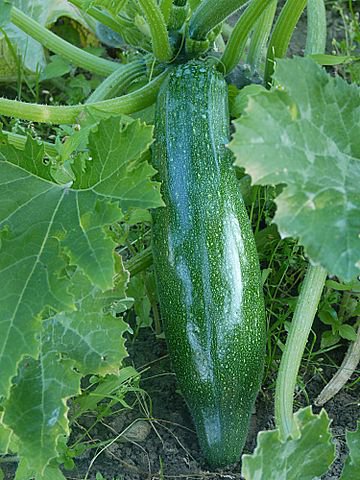 By Jamain - Own work, CC BY-SA 3.0, https://commons.wikimedia.org/w/index.php?curid=20992223
This is a type of marrow that grows in the midst of gigantic leaves that spread over a huge area of the garden. There seems to be a wide range in the amount that can be harvested from a single crop from year to year. Two years ago we had more than we knew what to do with; this past year we had hardly any. Still, the size of the plants is good for hiding from the neighbours when you're not in the mood for conversation.
I didn't actually know how rare these were in Japan until just about all of my neighbours asked what they were. My wife likens them to cucumbers when trying to describe them, but they're not at all similar. For one thing, zucchini can generally only be eaten cooked unless they're very, very small--although we have experimented with shredding them and blending them in smoothies with ingredients such as bananas and cacao powder.

There are others we have yet to try. I would have included avocadoes on this list, but all we've really done with these as of yet is transplant them when pits we threw away accidentally sprouted in the compost heap. The plants didn't do so well in the cooler months, and would probably need to be grown in a greenhouse to produce fruit in Tottori's climate.