Disaster Prevention
The Disaster Prevention Handbook
(Simple Japanese version): including portions in English, Chinese, Tagalog & Vietnamese.
The Disaster Prevention Handbook uses simplified Japanese to explain how individuals can prepare for earthquakes, heavy rain, typhoons and blizzards. Readings of kanji words are included and expressions are made as simple as possible. In addition to Japanese expressions indispensible for emergency situations, explanations are added in English, Chinese, Tagalog, and Vietnamese.

3rd Edition, available for download here (PDF)
Print a copy for easy use! (A5 size, 36 pages)
Emergency Card
In simple Japanese, English, Chinese, Tagalog, and Vietnamese. Keep yours on hand at all times to be ready in case of emergency. Cards are available at every TPIEF office.
Check it out here(PDF)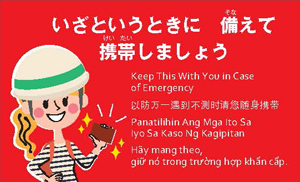 Revised 2018
Mobile Telephone Information Service(torimo)
Essential disaster and emergency information and useful information for living published monthly in  four languages--English, Chinese, Tagalog and Vietnamese. Sign up to get it delivered to your mobile device or smartphone.
Sign up here for the torimo email magazine.